HAY, HAY BARNERS



TWILETTA SEZ HAY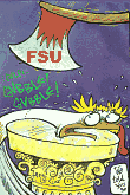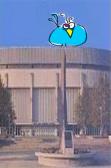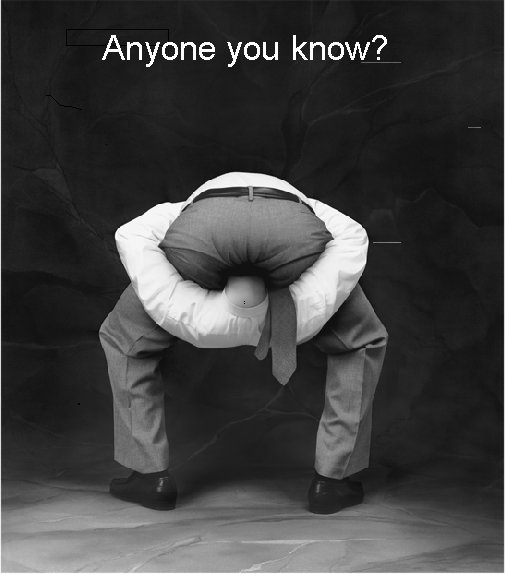 Barner Athletic Dept
Employee, On The Job!




THE BARNER VERMIN HALL OF SHAME II
THE NIGHTMARE CONTINUES...


Hey, Auburn: Go ahead and play the game!!!

By CLYDE BOLTON
News staff writer
02/05/99

Crawfishing out of its 1999 football opener with Florida State wouldn't be good for
Auburn or anyone else. Play the game, for crying out loud!

I realize college football has become big business, and big business has convoluted
methods of operation, but there's a time to simply make a fist and yell "bring'em on"
and do the manly thing, which is usually the right thing. This is one of those times.
To do otherwise would, in fact, be shameful.

When it was originally scheduled it was a dream game.It would match Birmingham's
Bobby Bowden, the old master, against Terry Bowden, his son, who was a bright
star in the coaching heavens. But Terry, certain he was going to be canned at the
end of the 1998 season, resigned after six games. So what we have now is Bobby
Bowden vs. Tommy Tuberville, who is Terry's successor. Hey, it's no dream game,
but it's still marquee stuff. Auburn's new coach makes his debut against one of the
all-time greats of the profession.

A victory would bond Tuberville to the Auburn people like they'd all bathed in Super
Glue. A loss wouldn't be a disaster, because it would merely be what most expected.
And everybody could say, "Well, it was Terry's players." Terry gets blamed for
everything, anyway.

Tuberville has said he would like to see the game canceled and that he and Auburn
AD David Housel have discussed canceling it. Tuberville said he hates to see all the
turmoil of recent months at Auburn rehashed. Housel said he is "looking at all of the
options that would be suitable for handling this situation." Auburn would have to pay
$500,000 to cancel. If it can waste that kind of money it must be well off indeed.

The Auburn turmoil is going to be rehashed before opening day anyway, whether
Auburn plays FSU or substitutes South Georgia Mortuary College. So what? Surely
the AU managers aren't so thin-skinned they'll faint from it. What sort of message
would canceling the game send to Auburn's players? If they're worth their salt, they
believe they can beat FSU, and they're looking forward to having the opportunity.

ESPN and FSU say they expect Auburn to honor its commitment. "We're not in favor
of changing it, because we've gone to such extremes to play it," Bobby Bowden told
me Thursday. "Five years ago we drew up this contract. At first Terry and I were
very reluctant to play it, because we've never said we wanted to play father-son. But
we got to thinking maybe we should do it." Now it's budgeted into this season, "and
we're counting on that packed stadium. How would we ever pick up another game
unless it was with a I-AA school, and then you're talking about 20,000 fewer people."

When Terry resigned, Bobby said he would like to see the game canceled, but he
now says that was just a knee-jerk reaction, and "after I thought about it and talked
to our administration I definitely felt we should not cancel it." Dave Hart, Florida
State's AD, said: "I've had no conversation with David Housel of any nature for a
couple of months. David told me when we talked that Auburn would honor their
contractual commitment and be in Tallahassee Sept. 2, so it has never been an issue
with me. "We have the Atlantic Coast Conference and TV commitments to honor, not
to mention mailing out season ticket information."

Just play the game, Auburn!!!




Albarn Shames It's Own Fans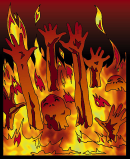 A fellow I don't know stopped me in a parking lot and said, "I went to Auburn, and
this is embarrassing." I would feel the same way if I had attended Auburn. For
that matter, I didn't attend Auburn, and I do feel the same way. In fact, I think
anyone who ever played sports could feel embarrassed by Auburn's retreat. This
mess has struck such a nerve with the public because it transcends a school
altering its football schedule. It repudiates the values that coaches, from Vince
Lombardi to Little League, teach.

I thought it revealing that the speaker at Monday's Tip-Off Club luncheon,
Lipscomb University basketball coach Don Meyer, took it upon himself to toss a
brief verbal jab at Auburn. He sounded frustrated, even betrayed, and I think he
might have considered that, in some small way, he was speaking for all coaches
and all players of all sports.

I have thought much about this strange episode. It persists as a subject over
morning coffee and happy hour cocktails. It is multi faceted: Has anyone
considered the feelings of the Auburn players? The message the school is
sending to them is, "You aren't good enough to play FSU, so we scheduled
Appalachian State instead." What will the players think later when the coaches
are telling them before the game that they can whip Tennessee or at halftime
that they can come back from 21 down and beat Florida?

You can be certain the Auburn players wouldn't have dodged Florida State if it
had been their call. They were looking forward to testing the mighty Seminoles.
It was a big, big game, even without the Bowden factor, the kind real football
players live for. Auburn players are the ones I feel sorry for.

And how about the Appalachian players? They're being told, "We don't think our
guys can beat FSU, but we think they can beat you." What more could a coach
want in the way of bulletin board material? Appalachian will have the
psychological advantage, for whatever it's worth. Say this for Auburn, its
timing was right. It waited until after signing day. That was too late for other
colleges to call it chicken, too late for impressionable recruits to back out.

What effect will this have on the relationship between Auburn and TV? Auburn's
1993 opener against Ole Miss was supposed to be on ESPN, but it couldn't be
televised because Auburn was on probation. Now ESPN gets shafted by Auburn
again.

Whose idea was this anyway? David Housel's? Bobby Lowders? Tommy
Tuberville's? Who actually made it happen? Who could have failed to realize in
advance this would be a massive public relations blunder? Who really could have
believed that canceling the FSU game would quiet things down for Auburn?
What must Cliff Ellis be thinking? He gives the school its greatest basketball
team, and the powers that be draw the headlines by running from a football game.

And there's that most intriguing question of all:

Where the heck is Appalachian State?