HAY, HAY BARNERS



TWILETTA SEZ HAY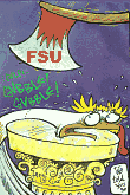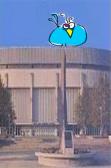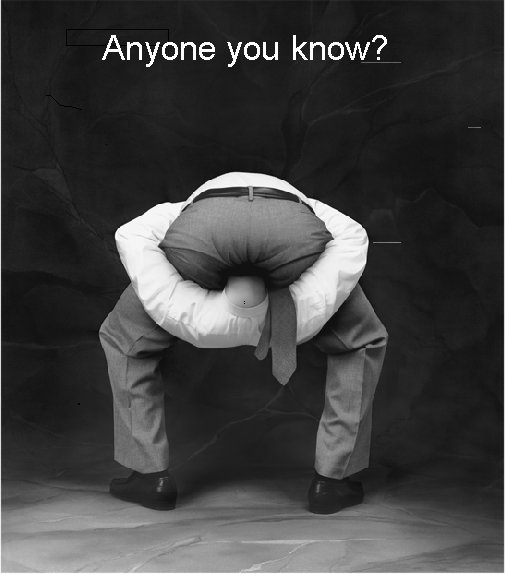 Barner Athletic Dept
Employee, On The Job!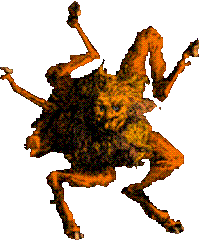 THE BARNER VERMIN HALL OF SHAME!!!!
THE NIGHTMARE CONTINUES....




Shameless Auburn U. again tucks tail, pays!
Published in The Orlando Sentinel, Feb 7 1999

By Larry Guest
Sports Commentary




Would somebody please tell me how I can get on Auburn University's gold brick list? I
mean, I could retire 10 years early and get out of you readers' hair if only you'd tell me
where the line forms for Auburn grants. In researching the sordid goings-on behind
Terry Bowden's lynching last fall, I developed the theory that "Auburn" must be an old
Indian word for "hush money." Or "payoff."

Auburn has been paying off an alleged former bag man at the annual rate of $96,000 the
past three years. They agreed to pay off Terry $620,000 only after he signed in blood
that he won't tell what he knows. They're essentially paying off NCAA-infamous Pat
Dye by keeping him on in a feather-bedding staff position. Now they're paying off
football opponents they're afraid they can't beat.

If I promise never to refer to AU as Atrocities U., or Aberration U., how much can I add
to my nest egg? If I try to justify why they just ratted out on this fall's season-opening
game at Florida State, or explain how they really had good reason to renege on a
thousand 4-H students they had promised to treat to the Auburn-LSU basketball game
Saturday, how much of an endowment could I expect from Annuity -- uh, I mean
Auburn University?

Certainly wouldn't be anything new. They're already in the business of buying sports
writers. The bank controlled by Auburn tyrant/booster Bobby Lowder sponsors the radio
show of one Birmingham columnist who -- surprise, surprise -- strongly defended
Auburns shameless tuck-tail-and-run-from-FSU move in print.

However, another Birmingham columnist, exercising his obvious freedom of thought and
proven integrity, termed the bailout as dishonorable cowardice. "There's a time to simply
make a fist and yell, 'Bring 'em on!' and do the manly thing, which is usually the right thing,"
Clyde Bolton wrote. "This is one of those times. "Are universities no longer in the
business of holding themselves up as examples of honor and commitment?

The dictionary defines "auburn" as a reddish brown color, although it's more red today for
those at Auburn with a conscience. My Webster's also suggests a word for rule by a single
individual, so maybe the school should be Autocracy Univ. Can't say for certain that
Lowder, the bullmoose banker, is behind this FSU bailout, but it would be the first Auburn
athletic decision more important than the color of letterheads.

Athletic Director/Puppet David Housel made it clear enough it wasn't his idea when he left
a phone-mail message for FSU Athletic Director Dave Hart that he had been "instructed"
to fax the cancellation notice. Housel also called it "an institutional" issue, but if you think
the school president actually ventured anywhere close to a football matter, then you haven't
been paying attention to news out of Amok Univ.

I refuse to believe that Housel -- long thought to be an honorable soul fiercely loyal to
Auburns dysfunctional family -- pushed for this bailout just months after he had given his
word to Hart that the game was on. What is his word worth now?

That brings us back to the banker who is backing new Coach Tommy Tuberville,
apparently even when Tuberville recently mentioned he didn't want to open his tenure at
FSU. So out came the checkbook again and Auburn will be coughing up at least $1
million to ditch FSU in favor of mighty Appalachian State, or some other humpty. (I say
"at least" because AU could face a lawsuit from the Atlantic Coast Conference over lost
revenue from ESPN, which was set to air the FSU-Auburn game.) FSU is suddenly
facing the difficult task of finding -- in a matter of weeks -- a suitable foe in a sport in
which schedules of suitable foes are locked in eight and 10 years out.

What message is Tuberville sending to his new players? He surrendered to FSU before the
first shot was fired. Aren't you supposed to wait until the fort is on fire and the parade
grounds are littered with dying troops before you run up the white flag? This would be like
the Allies telling Germany, "Look, we don't have any beef with Hitler. We'd rather fight
Luxembourg."

Silly me. I've long thought of high school and college coaches as admirable pillars who
dispense character and spine. They spew mottoes like, "When the going gets tough, the
tough get going." Or they tell the lads when their backs are to the end zone, they have to
hunker down, dig in, reach back and grab a fistful of dirt and fight harder.

But when a little rain falls at Auburn, certain Tigers run like cur dogs. Obviously, the AU
mantra is: "When the going gets tough, who can we pay off?"








HAY, HAY BARNERS! DIDDY WANTS.........YOU